Wednesday Mar 16, 2022
Episode 30. The First, The Few The Only: Redefining Power In Companies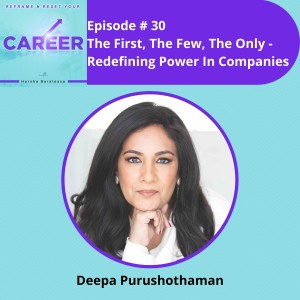 "The advice you're talking about is from one of my mentors, it's my favorite business advice and he said "never need a client more than you want a client" … but I do think it applies to life and I think part of what my work is about is in meeting all these women, now I've met thousands of women of color, I think there's also a lot that we're taught consciously and unconsciously so I think as a children of immigrants a lot of us were taught security is important, to stay in the job, just be quiet, just put up with it, like that setup as an example makes us stay in situations that don't work for us." Deepa Purushothaman shared with me on Episode 30 of the Reframe & Reset Your Career podcast.
Deepa is the author of The First, The Few, The Only: How Women of Color can Redefine Power in Corporate America and the co-founder of nFormation, a company which provides a brave, safe, and new space for professionals who are women of color.
Prior to this, Deepa spent more than twenty years at Deloitte and was 'a first': an Indian American woman and one of the youngest people to make partner in the company's history.
In her time there, she helped grow Deloitte's Social Impact Practice, served as a National Managing Partner of Inclusion, and served as the Managing Partner of WIN—the firm's renowned program to recruit, retain, and advance women.
Focusing on women's leadership and inclusion strategies, Deepa's mission is to help women of color navigate the complex and often opaque corporate structures of today—helping them not only take a seat at the table, but change the way the table is formed.
Deepa has degrees from Wellesley College, Harvard Kennedy School, and the London School of Economics. She speaks extensively on women and leadership. She has been featured at national conferences and in publications including Bloomberg BusinessWeek, The Huffington Post, and Harvard Business Review.
It was great to catch up with her and we talked about the following:
Starting out in consulting at Deloitte as the only non-business school graduate in her intake,
The attributes that helped her become one of the youngest partners in Deloitte's history,
Being comfortable about not knowing everything and asking other people,
Why Deepa transitioned out of her successful consulting career,
Starting her new company nFormation with Rha Goddess,
Why she wrote her book "The First, The Few, The Only",
Taking power and control back,
Dealing with micro aggressive behaviour,
Navigating your career in a strategic way not just working harder,
How to play the game while you change the game,
Analysing if you should you stay at a company or leave and finding the right destination, and 
Don't fear leaving your job and the associated title and status.
Resources & People mentioned
Dolly Chugh
Contact Deepa
Website: https://www.deepapuru.com/
LinkedIn: https://www.linkedin.com/in/deepapuru
Instagram: https://www.instagram.com/deepa.puru/
Facebook: https://www.facebook.com/deepa.purushothaman.75
Twitter: https://twitter.com/deepapuru
Reframe & Reset Your Career Resources & Contact Info
YouTube Channel:  https://www.youtube.com/channel/UCHASU4QApsJ3RsOFo1zTnhQ
LinkedIn Page: https://www.linkedin.com/company/reframe-reset-your-career/?viewAsMember=true
E-mail - reframeandresetyourcareer@harshaboralessa.com
It would be great to hear from you, the listeners, and your thoughts about the podcast, YouTube channel or anything else, it's always a pleasure to hear from you. I have had some great reviews but not had any way of responding. Thanks so much for your support and have a great week!
*Reframe & Reset Your Career, including any comments made by the host and guests, is for informational purposes only and does not constitute advice of any description, including but not restricted to financial, legal, investing or medical advice.*