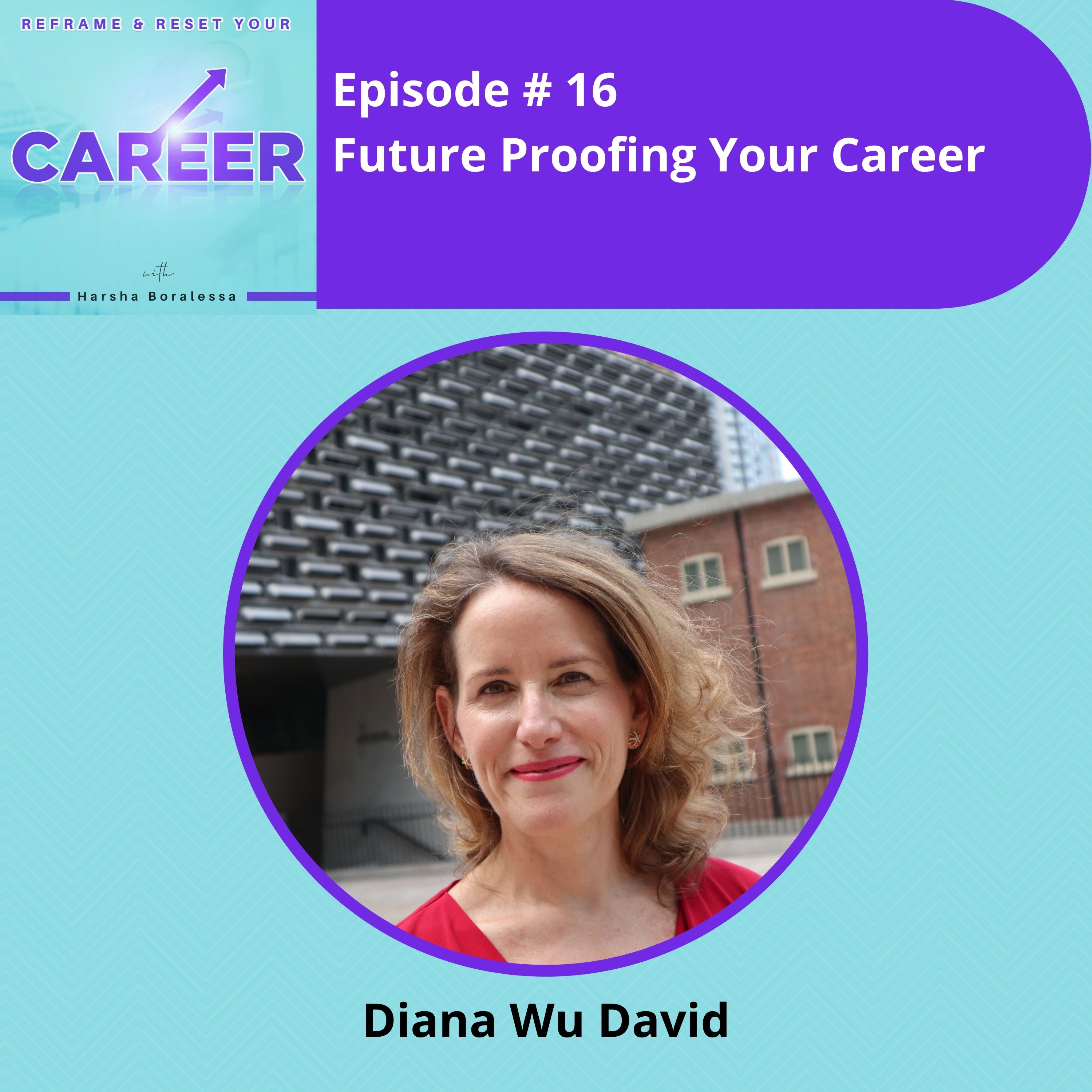 "It's easier than ever for you to do those kind of experiments, so you can instead of deciding to launch a newsletter you can start writing on Medium and get feedback in terms of whether or not people are interested and I remember for myself I loved my job that was in venture capital and so at some point I was invited to join an Incubator, an angel investing fund, and I decided not to do it … I decided to just stay in my job and allocate a portion of my salary to investing in companies and I went on the advisory board for them instead of joining them as a partner", Diana Wu David kindly shared with me on Episode 16 of the Reframe & Reset Your Career podcast.
Diana is a former Financial Times executive, author of Future Proof: Reinventing Work in an Age of Acceleration and an adjunct professor at Columbia Business School's EMBA Global Asia. She started out her career working on high level strategy as a management consultant and as an assistant to Dr. Henry Kissinger.
She works with global leaders, companies and boards to enhance their ability to adapt, contribute, collaborate and grow.  She has consulted with or spoken to clients including JP Morgan, AXA, Credit Suisse, Mandarin Oriental Hotel Group, the World Bank, Asia Development Bank, Expedia and Randstad.
She is a futurist and writes about the future of work for publications including Fast Company, Inc and Thrive and speaks globally on the future of work, corporate governance and boards and East-West issues.
It's always fun to chat with Diana and we had a great conversation talking about the following:
Starting Her Career Working For Dr Henry Kissinger;
Having An Experimentation Mindset;
Reflecting And Learning From Every Job Move;
Being Strategic With Your Career And Looking To The Future;
Transitioning From A Corporate To A Portfolio Career;
The Four Aspects Of Future Proofing Your Career;
The Power of Your Network;
The Importance of Adaptability In Your Career;
Resilience;
Taking Action On A Regular Basis; and
Being Proactive When Looking For Opportunities.
Resources & People Mentioned
Mizuta Masahide 
Henry Kissinger
Diana's TEDx Talk - https://www.youtube.com/watch?v=wBObnvIZGwE
Donna Eiby
World Economic Forum Article on Skills of Tomorrow - https://www.weforum.org/agenda/2020/10/top-10-work-skills-of-tomorrow-how-long-it-takes-to-learn-them/
Dorie Clark
Tammy Gooler Loeb
Contact Diana
https://www.linkedin.com/in/dianawudavid/
https://twitter.com/dianawudavid
https://www.facebook.com/dianawudavidpage/
https://www.instagram.com/dianawudavid/
Reframe & Reset Your Career Resources & Contact Info
YouTube Channel - https://www.youtube.com/channel/UCHASU4QApsJ3RsOFo1zTnhQ
E-mail - reframeandresetyourcareer@harshaboralessa.com
It would be great to hear from you, the listeners, and your thoughts about the podcast and YouTube channel or anything else, it's always a pleasure to hear from you. I have had some great reviews but not had any way of responding. Thanks so much for your support and have a great week!
*Reframe & Reset Your Career, including any comments made by the host and guests, is for informational purposes only and does not constitute advice of any description, including but not restricted to financial, legal, investing or medical advice.*