Wednesday Apr 13, 2022
Episode 32. Find Your Dream Job: Strategies For Finding Work & Advancing In Your Career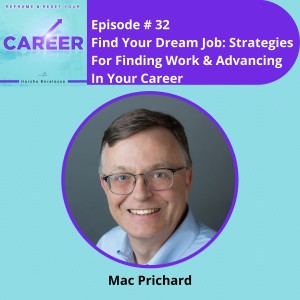 "Employers hire people to solve problems and you need to recognize that and you need to explore that when you do have a job interview with a hiring manager … if you want to distinguish yourself from your competitors … one of the best ways to do that is to ask the hiring manager what's keeping him or her up at night … and you have an opportunity to reflect back on your own experience and share examples of how you've solved a similar problem or you can talk about your ideas for solving that problem and when you do that the nature of the conversation changes, you're becoming almost peers because you're working together to solve a problem" Mac Prichard shared with me on Episode 32 of the Reframe & Reset Your Career podcast.
Mac is a communications strategist and career expert based in Portland, Oregon. He is the founder and publisher of Mac's List, where he writes regularly about job hunting, leads classes on job search skills, and hosts the Find Your Dream Job podcast.
He also owns and operates  Prichard Communications, a public relations agency that serves non-profits, public agencies, and foundations across the United States. Prior to running his own business, Mac had many years experience working in politics, government and non-profits.
He has a degree in political science from the University of Iowa and a masters in public administration from the Harvard Kennedy School.
He is the author of two books: Land Your Dream Job Anywhere and Land Your Dream Job in Portland (and Beyond). When he's not hard at work, Mac can be found watching classic movies, taking photos during his travels, or walking around Ladd's Addition with his wife Kris and Weimaraner Kai.
Mac and I had an enjoyable conversation and talked about the following:
His interest in politics from an early age and studying politics at the University of Iowa.
Working on political campaigns and the skills he learnt,
Developing his interest in communication through role models in his family,
How volunteering helped Mac secure a position with a human rights organisation in Washington,
Changing his job search strategy and using informational interviews to find a new job which was not advertised,
Setting goals and being clear about what you want during your job search,
Starting Prichard Communications whilst still in employment, which helped him manage the risk of starting his own business,
Insights into the hiring process and looking at it from the hiring manager's perspective,
Potential strategies to demonstrate problem solving skills at interview,
Taking charge of your career development and being proactive, and
Not being afraid to follow up politely after making a request as sometimes people are too busy and forget to respond.
Resources & People mentioned
The Candidate
Robert Redford
Shirley Williams – British politician
Influence – Dr Robert B. Cialdini
Contact Mac
Mac's List website: https://www.macslist.org/ 
"Find Your Dream Job" podcast: https://www.macslist.org/podcasts
LinkedIn: https://www.linkedin.com/in/macprichard/
Twitter: https://twitter.com/Mac_Prichard 
Reframe & Reset Your Career Resources & Contact Info
YouTube Channel:  https://www.youtube.com/channel/UCHASU4QApsJ3RsOFo1zTnhQ
LinkedIn Page: https://www.linkedin.com/company/reframe-reset-your-career/?viewAsMember=true
E-mail - reframeandresetyourcareer@harshaboralessa.com
I am honoured and grateful to Mac's List and Mac Prichard for including me in Mac's List top Career Podcasts of 2022. Thank you so much to the listeners and the wonderful guests who have made the show such a success!
It would be great to hear from you, the listeners, and your thoughts about the podcast, YouTube channel or anything else, it's always a pleasure to hear from you. I have had some great reviews but not had any way of responding. Thanks so much for your support and have a great week!
*Reframe & Reset Your Career, including any comments made by the host and guests, is for informational purposes only and does not constitute advice of any description, including but not restricted to financial, legal, investing or medical advice.*